Roots & Roses, festival for gourmets!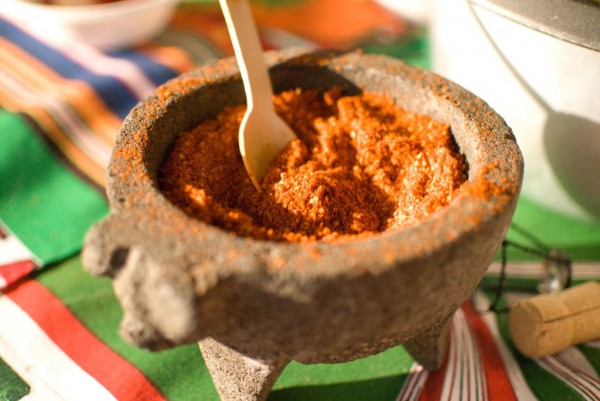 Once again this year, a team of around 50 cooks will be on hand to offer the good little dishes that will delight the Roots & Roses spectators. A big novelty this year: the festival dishes will be prepared using local and organic products. Thus, the meats will be provided by COPROSAIN.
The Mexico stand
Here, the real food of the different Mexican terroirs. At the antipodes of our western representations:
Different tacos: Cochinita pibil (Yucatan dish: diced pork in an achiote paste sauce), shrimps in mole verde (Acapulco dish, shrimps in a pumpkin seed sauce),
Chili con carne or Sin carne, served with an addition of homemade habaneros sauce (spicy and fragrant) and / or sour cream
Guacamole and tortillas: guacamole prepared in the traditional way
Mexican plate: assortment of everything!
The "Indian Cuisine of Mauritius" stand
The cuisine of Mauritius takes up, in an even more refined way, the principles of Indian cuisine, blending it with African and European influences.
Beef carry (beef and potato curry served with basmati rice)
Dal of lentils and basmati rice (vegan)
Mauritian plate (assortment of both curries)
The Belgium stand
Here, dishes usually served at festivals, but not in the same way… And of course, everything is made in a traditional way by our cooks. Very high quality is guaranteed.
Real giant hamburgers pure beef (organic). Served on artisanal sesame bread or on a plate with raw vegetables (tartar sauce, andalouse, homemade pickles, artisanal ketchup).
Traditional French fries cooked in beef white (or vegetable oil), served with homemade sauces (mayonnaise, pickles, tartar, andalouse or ketchup)
Oil fries served with the same sauces, but without eggs (vegan)
Real dry sausages according to the boss's family recipe (the one from the festival, not the one Born in the USA)
The Italy stand
Porchetta, half-salted pig stuffed and cooked 18 hours at low temperature with a subtle blend of fresh herbs. Served in artisanal bread or on your plate. A traditional recipe from southern Italy.
Penne alla puttanesca: pasta with capers, olives and tomatoes, served with grated pecorino… or without for a vegetarian or vegan version.
Cambodia stand
The Khmer stand makes its big comeback at Roots & Roses! On the menu:
Fried noodles with vegetables (vegan)
Glass noodle salad (vegan)
Egg rolls (vegan)
Asian Sausage with Lemongrass
The Japan stand
Miso Soup (vegan)
Goma Aé (spinach with sesame sauce – vegan)
Soboro Don (minced pork in sauce over rice with scrambled eggs and minced leeks)
The pastry stand
Delicious home-made pies: with fruit, cheese, sugar, lemon… For all tastes.
La Blanche Ferme's milkshake stand
The bosses of the Blanche Ferme (producers from Bois-de-Lessines) prepare delicious strawberry milkshakes directly and with products from their farm.
Drinks
Soft (water 1T /juices 2 T)
Artisanal cider: 2 T
Beers

On the keg :  Pils Redor, Roses (festival beer), Moinette (20 cl), Saison Bio Dupont (20 cl) : 2T
75 cl corked bottle : Moinette (blonde, ambrée), Saison Dupont, La Bons Voeux, Chimay Bleue, Chimay Blanche 7T, Kriek Boone : 9 T

Pommeau, wine (red, white, rosé) : 3 T
Coffee / Massala Tchai: Indian tea with milk and spices
Tariff
8 tickets = 12 euros